'G' is for "Green Glass" and an excerpt from this story is today's entry for the Blogging from A to Z Challenge. This piece, written for Rose Caraway's forthcoming audio and ebook Rose Caraway's Dirty 30 Vol. 1, explores the way in which our senses compensate when one of them is lost – in this case, the protagonist is blindfolded as her lover takes control of her sexual pleasure.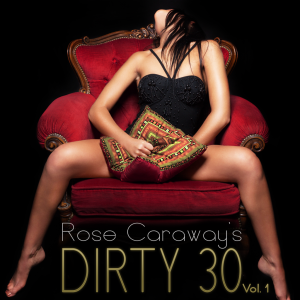 Excerpt from "Green Glass"
She was quite clear from the start about what she expected from the evening. She needed to orgasm. He appeared ambivalent but the moment she saw the blindfold in his hands, she knew he wanted to play.
"It's okay, isn't it?" he said, showing her the thick band of black velvet that glistened in the lamplight like a wet pelt.
She nodded, fully aware that her answer would mean nothing to him. He did as he pleased. She closed her eyes and, as she felt the caress of the fabric across her face, her world turned black. Not just dark or obscured but deep, velvety black. The blindfold obliterated her world. Its swathe was so wide that not a glimmer or a hope of light crept in underneath. No shadows played at the periphery of her vision. Only dark. Solid, immovable, graphite black.
Immediately her other senses compensated for the loss of her sight. Blood roared through her ears to the rhythm that her heart pounded against the wall of her chest. B-dum, b-dum, b-dum, picking up pace as her excitement blossomed. Her nostrils filled with the scent of her body and then the more exotic scent of his. He stood behind her, tying the ends of the blindfold, and she felt his body heat washing over her back. The blindfold tightened across her brow, her pulse quickened further. His breath whispered across the side of her throat.
"There," he said quietly. "Stand still for me."
Without her sight, her balance drifted. Standing still in the absence of visual reference points took concentration. She imagined she was tilting in one direction but if she corrected it, she found herself tilting the other way. Relief came with the touch of his hands on her shoulders. He spun her slowly until they were facing one another. The floorboards creaked under their feet as they moved together in silent ritual.
He didn't speak or ask anything of her but she nodded to give him permission to carry on. This time she would follow his lead, trusting him to bring her to the place she needed to reach. His hands left her shoulders and she sensed that his body was in motion, while remaining close. He was bending. His joints, his knees she thought, creaked and clicked and the touch of his fingers on her ankles confirmed that he'd knelt. He undid the ankle strap of her right sandal—a tiny metallic squeal as the buckle released. He held the back of her leg, raising her foot, while using his other hand to slide off her shoe. She wobbled and gripped his shoulder for balance. His skin was hot through the thin cotton of his shirt. He caught his breath, softly, but she heard it. He placed her naked foot back on the floor and turned his attention to her other shoe. His touch was firm and her other shoe was swiftly discarded. High inside her, muscles clenched in expectation, starting up an acute but welcome throb for which there was only one antidote.
As he stood, she let her hand drop from his shoulder. His breath felt warm against her chest, her cheeks, her forehead. As he moved, the rustle of his clothing painted an image of him in her mind's eye. He started to undo her blouse. The button holes were cut a little small, making the plastic buttons squeak as he eased each one through. She held her breath for what seemed like ever, wishing that he would simply rip the garment away and send the buttons skittering across the floor.
"Breathe," he whispered, and he bit her earlobe. She yelped, filling her lungs with the musky scent of him.
His hands slid inside her blouse and up to her shoulders. He ran them down her arms, pushing her blouse off and letting it drop to the floor behind her. The air was cool against the skin of her torso and upper arms. Her nipples pebbled within the confines of her bra. She sucked in her stomach, somehow aware of his eyes upon her—perhaps alerted by the quickening of his breath that they'd reached a new stage of the game…
The Sexy Librarian's Dirty 30 is now available at: