Hi,
July has been something of a whirlwind month for me – not only did I celebrate the release of the second installment of The Vampire Bond trilogy, The Scarlet Bond, I also had stories in three – yes, get that, three! – extraordinary anthologies from Cleis Press – Can't Get Enough  edited by Tenille Brown, Bound for Trouble edited by Alison Tyler, and The Big Book of Submission: 69 Kinky Tales edited by Rachel Kramer Bussel. And then of course, the incandescent Summer Loving antho, edited by Alison Tyler, came out to support Sommer Marsden and her family. If you haven't bought a copy yet, please, please do – this one is important!
But today it's all about one of the anthos, one which I, personally, can't get enough of! The height of summer seems to have been the perfect time for the release of Tenille Brown's fun-filled, super-steamy Can't Get Enough. It's perfect beach reading and an excellent primer for those hot summer nights when you simply feel…you can't get enough. And I'm going to warm you up with an excerpt from my own story in the antho, 'Those Damned Cobbles'. Enjoy!
Tamsin
xxx
Excerpt
Toward the end of the afternoon, you send me a text. I'm in the office and as I surreptitiously check my cell beneath the cover of my desk, your words set the heat rising within me.
Home already, waiting for you. But I can't wait…
I know what that means. You've come home early; you're lying on our bed, with your cock in your hand, your clothes strewn around the room, hurriedly discarded. For me, now the race is on. I've got to get back to you in time. Sometimes you can hold off long enough, but sometimes I'm simply too late. It's a game we play and if I get home fast enough, sex is my reward.
I text you back.
I'll be there.
I glance up at the clock; I'm contracted to sit in this chair for another fifteen minutes. I save the document I'm working on and power down my computer. Hoping no one will notice what I'm doing, I change my high heels for flats and get my bag ready to leave. My boss walks by my desk so I pretend to have my head down, reading an important paper. Thankfully he doesn't stop to talk to me.
As soon as the minute hand reaches the vertical, I'm out of my chair and pulling on my jacket.
"Night all," I call, as I hurry through the open-plan office toward the door.
Down in the parking garage I fumble with the combination lock on my bicycle. More haste, less speed—twice I get the numbers in the wrong order. But then the lock's off and I strap my bag to the rack on the back. If only I had decided to bring the car this morning, I would have had a better chance of getting to you in time. Now I'm faced with a twenty-minute cycle ride, and I don't want to be too exhausted at the other end for what you have planned.
I have to stand on the pedals to make it up the steep slope out of the office garage. I duck around the end of the barrier, waving at the security guard in his little box. Once I'm out on the street, it's a downward slope and I'm able to settle back on the saddle to catch my breath. I love this old bike, but it's hardly a racer. Several times you've offered to buy me something more aerodynamic, with a comfortable gel saddle and god knows how many gears, but I'm not interested. When I'd had this bike for a while, I christened it Barry. I've ridden miles sitting on Barry's shiny leather saddle, which has been polished to a chestnut patina by the pumping action of my buttocks. And when I'm thinking of you as I ride, the hard, slippery saddle pushing up between my legs only adds to my anticipation.
Blurb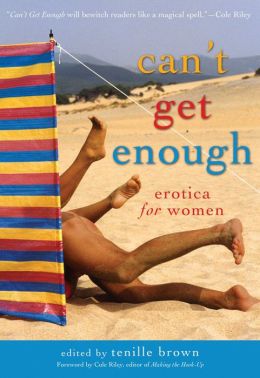 You know what you want and you know who you want. Can't Get Enough captures the intensity of those rapturous moments when passion takes over. Lauded eroticist Tenille Brown has curated a collection that captures the essence of irresistible desire in its many delightful forms. Girls (and boys!) just wanna have fun in Allison Wonderland's joy-filled "Strip to My Lou." Beatrix Ellroy's "Before They Burn" shows just how memorably sexy an unexpected encounter in the middle of a work shift can be. A couple reveals sexual secrets that are both tender and a turn-on in Louise Blaydon's "The End of Sensible." An inspiring read, Can't Get Enough is as good as it gets.
Buy links:
Tenille Brown
Over the past ten years, Tenille Brown's erotica has been featured online and in over 50 books, and her nonfiction writing was included in The Greenwood Encyclopedia of African American Writers. Her smut is featured online in various webzines and in over fifty print and ebook anthologies including Best Women's Erotica, Chocolate Flava, 1 and 3, Curvy Girls, Going Down, Best Bondage Erotica, 2011 and 2012, Sapphic Planet, Suite Encounters, Open, Backdoor Pleasures and Best Lesbian Erotica 2013. The southern wife and mother writes for Mischief Books, drinks plenty of vodka, blogs at therealtenille.wordpress.com, and tweets @TheRealTenille.